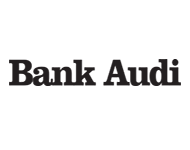 Contact information:
Website:
LOCATION
Social:
BANQUE AUDI NOVO
Bank Audi is a regional group with a universal banking profile. The Bank offers universal financial products and services including Corporate, Commercial, Individual and Retail, and Private Banking services, in addition to Investment Banking. As at end-March 2017, Bank Audi's consolidated assets reached USD 43.9 billion, principally driven by private customers' deposits of USD 36 billion, with shareholders' equity reaching USD 3.8 billion. Bank Audi's group staff headcount exceeds 7,000 employees and its shareholders' base encompasses more than 1,500 holders of common shares and/or holders of Global Depositary Receipts (GDRs) representing common shares.
Bank Audi ranks first among Lebanese banking groups and is positioned in the inner circle of top regional banking groups. Its shares are listed on the Beirut Stock Exchange. Its GDRs are listed on both the Beirut Stock Exchange and the London Stock Exchange.