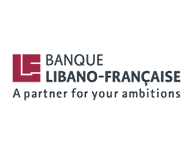 Contact information:
Website:
LOCATION
Social:
BLF Bank
Banque Libano-Française (BLF), established in 1967, is one of the leading banks in Lebanon. While it has historically been a commercial bank, the Bank has diversified its activities and currently provides banking services in five principal areas: commercial banking, retail banking, investment banking, private banking and correspondent banking.
BLF operates in Lebanon through a network of 56 branches and 156 ATMs. Abroad, BLF Group is present in France and Cyprus (Banque SBA), in Switzerland (LF Finance Suisse), in Syria (Bank Al-Sharq), in the United Arab Emirates (a representative office in Abu Dhabi), in Nigeria (a representative office in Lagos), and in Iraq (a branch in Baghdad).
As at end-December 2016, BLF had 1,449 employees, including 1,216 persons employed in Lebanon.