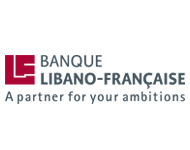 Contact information:
Website:
LOCATION
Social:
BLF Bank
Banque Libano-Française (BLF) provides digital platforms that allow you to undertake your banking transactions in just a few clicks.
Our ATMs are at your disposal for money withdrawals, money deposits, local transfers, or even recharging your mobile phone.
You can also use My BLF app and the e-banking to access your statement of account, make local transfers and organize your spending from the comfort of your home.
For more information, please refer to our website, our social channels, or call 1272 for assistance.