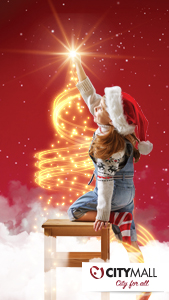 Fall upon our Christmas City!
Visit us & enjoy our Christmas activities this year:
Christmas Market at L1 
#ChristmasMarket at #CityMall_Lebanon starting this Friday 11 December!
You do not want to miss it! December 11,12,13 | 18,19,20,21,22,23 | 25,26,27,28,29,30 | 2,3,4 January
Santa Video Call
We won't let you miss the chance to see santa this year! Video call santa & let him know your wishes!
From 11 to 24 December & January 4 | 4 to 8 PM
Christmas Animation
Roaming characters at Ground floor from 17 to 23 December | 4 to 8 PM
Kids Activities
Christmas is better at #CityMall_Lebanon with #TreasureIsland! Join us for the kids activities BricksLab, face painting, arts & crafts and more at Ground floor Dora side!
From 18 December to 2 January; 3 to 9 PM, do not miss it!