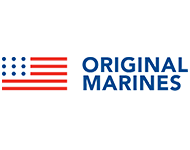 Contact information:
Website:
LOCATION
Social:
ORIGINAL MARINES
Founded in 1983 by five businessmen from Campania, Italy, Original Marines is an Italian clothing brand specialized in the production and distribution of quality, flair, and creative designs aiming at the best quality-price relation. Known for its unique style and versatility, the Original Marines collection has the perfect fit for every occasion with details that cannot go unnoticed.
It all started in the early 1980s with the production of simple white T-shirts meant to look like the ones marines wear. The item was a huge success with more than 25 million T-shirts sold in just few years. It was a great accomplishment for the five businessmen who started off as a small clothing company and ended up with a successful business currently operating with more than 800 stores all over the world.
Today, Original Marines is not only a famous Italian brand but also a way of being and a way of living with creations that are original, cheerful and dynamic.