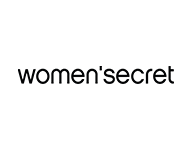 Contact information:
missing
Website:
LOCATION
Social:
WOMEN'S SECRET
women'secret es una marca de ropa interior, ropa para dormir, accesorios y ropa de baño para la mujer de nuestros días. Creamos nuevas ideas para hacerles la vida más fácil y más feliz, unas veces provocando emociones y otras aportando soluciones. Somos especialistas en el universo femenino, una marca creada por y para mujeres.

Trabajamos para desarrollar una marca global capaz de mezclar prestigio, feminidad, contemporaneidad y buen precio. women'secret pertenece al Grupo Cortefiel, el 5º grupo textil más fuerte de Europa.
women'secret nace en 1993, con su primera tienda en una céntrica calle de Madrid, España, y la firme idea de convertirse en líder en creatividad, eficiencia y sensibilidad dentro del sector de la corsetería y lencería. El éxito fue imparable y en 2001 comenzó su expansión internacional. A día de hoy, women'secret cuenta con más de 520 tiendas en más de 40 países.
Nuestra tienda online vende en toda la zona euro metropolitana.
women'secret is a brand offering underwear, sleepwear, accessories and swimwear for today's woman. We create exciting new ideas to make life simpler and more fun, on occasions provoking feelings and emotions and on others offering solutions. We are specialists in the female world: a brand created for and by women.
We work to develop a global brand capable of combining prestige, femininity, modernity and excellent prices. women'secret is part of the Cortefiel Group, Europe's fifth biggest textile group.
women'secret was created in 1993, and the first store opened in the centre of Madrid, Spain. The objective was to become a leader in creativity, efficiency and sensitivity in the underwear and lingerie sector. Its success has been unstoppable and in 2001 the firm embarked on its international expansion strategy. Today, women'secret has more than 520 stores in over 40 countries.