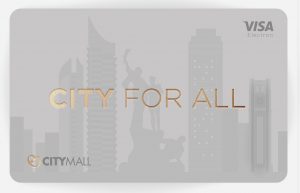 Cardholder Terms and Conditions
By purchasing, accepting and using your CityMAll gift card (the "Gift Card"), you are agreeing to these terms and conditions (the "Terms and Conditions"). Please read them carefully and keep a copy for your records.
CityMAll reserves the right to revise these Terms and Conditions without prior notice. You can obtain the latest version of these Terms and Conditions and additional information about CityMAll Gift Card at _______________.com.lb at any time.
1. Definitions
1.1. In these Terms and Conditions, 'we', 'us' or 'our' means CityMAll. 'You' or 'Your' means the person who has purchased (the "purchaser") and/or the receiver (the "user") of the Gift Card.
1.2. These Terms and Conditions form an agreement and will apply between you and us in relation to the Gift Card.
2. Purchasing a Gift Card
2.1. The Gift Cards can be purchased at CityMAll.
2.2. The Gift Card can be loaded for one time only (upon activation at the info desk), there is no reloading possibility.
2.3. The minimum loadable amount is LBP 300,000 / the maximum loadable amount is LBP 5,000,000.
2.4. CityMAll reserves the right to reject or cancel any card order regardless of whether any online or electronic mail confirmation indicates the contrary.
3. Fees
3.1. The Gift Card is free of charge; you will only pay the loading amount.
3.2. No fees will be applied to the Gift Card after purchase.
4. Expiry/Validity
4.1. The Gift Card is valid for 12 months from activation; after this period, the Gift Card shall be terminated, and any remaining amount is not exchangeable with cash or any other voucher and will be automatically forfeited.
4.2. The "Good thru" on the front of the Gift Card is for CityMAll stock control purposes only.
4.3. If the Gift Card's balance reaches zero, the Gift Card will be terminated.
5. Using the Gift Card/Features
5.1. The user must sign the back of the Gift Card immediately upon receipt.
5.2. Only the user whose signature is on the back of the Gift Card may use the Gift Card for purchases.
5.3. The Gift Card can be used for purchases at CityMAll premises only.
5.4. The Gift Card may not be used to make purchases from merchants outside CityMAll network, to withdraw cash from automated teller machines (ATMs) or for any other type of purchase or cash advance or any ecommerce transaction.
5.5. Every purchase made with a Gift Card is automatically deducted from the Gift Card balance and any remaining funds may be used for future purchases made with the Gift Card provided that the validity period stated in 4.1 above is not expired.
5.6. You are responsible for all authorized transactions initiated by use of your Gift Card. If you permit another person to have access to your Gift Card or card number, we will treat this as if you have authorized such use and you will be liable for all transactions and fees incurred by those persons.
5.7. You should get a receipt at the time you make a transaction using your Gift Card. It is recommended that you keep all receipts of purchases made with your Gift Card.
5.8. If the purchase amount is greater than the remaining balance, the difference may be paid for with cash, check, or credit or debit card, subject to the policy of the merchant.
6. Card Limitations
6.1. You are responsible for keeping track of the available balance on the Gift Card. You may inquire about your Gift Card's remaining balance at CityMAll information desk or by calling the number on the back of the Gift Card or by SMS.
6.2. The currency of the Gift Card is Lebanese Pounds (LBP), spending on the Gift Card can be in LBP or USD; forex fees will apply for USD transactions.
6.3. If the merchant attempts to process a transaction with an amount that exceeds the Gift Card's remaining balance, the transaction will be declined.
7. Restrictions
7.1. Balances on multiple Gift Cards cannot be combined and/or transferred to one or more new Gift Cards.
7.2. Gift Cards cannot be reloaded or topped up, or redeemed together with a coupon or other Gift Cards for the same order.
7.3. Gift Cards cannot be redeemed for cash or checks and Gift Card balances cannot be transferred to credit Card accounts or accounts of other means of payment.
7.4. There is no credit line associated with the Gift Card.
7.5. You will not receive any interest on the funds available in your Gift Card.
7.6. Except as expressly allowed by CityMAll, Gift Cards may not be transferred for value or resold.
7.7. You may only use your Gift Card in the manner and for the purposes described in these Terms and Conditions. Your Card may not be used for illegal transactions or for any type of pre-authorized transactions such as recurring monthly payments, dues or fees.
7.8. CityMAll reserves the right to reject the redemption of Gift Cards and request alternative forms of payment, terminate the respective account, expose Cardholder information and transaction details to other concerned parties, and take legal actions, if CityMAll reasonably believes that Gift Cards are abused or used or obtained fraudulently.
8. Confidentiality
We may disclose information to third parties about your Card or the transactions you make:
8.1. Where it is necessary or helpful for completing transactions
8.2. In order to verify the existence and condition of your Card for a third party, such as merchant
8.3. To utilize services of third parties and affiliate entities who assist us in providing the Card and related services
8.4. In order to comply with government agency, court order, or other legal or administrative reporting requirements
8.5. If you consent by giving us your written permission
8.6. If you owe us money or there are legal proceedings in connection with your Card, in which case information may be relayed to attorneys, accountants, collection bureaus, financial institutions, and others involved in collection, adjustment, settlement or reporting
8.7. In order to prevent, investigate or report possible illegal activity
8.8. In order to issue authorizations for transactions on the Card
8.9. As permitted by applicable law
8.10. To our employees, auditors, affiliates, parent and subsidiary companies, service providers, or attorneys as needed
8.11. Otherwise as necessary to fulfill our obligations under these Terms and Conditions.
9. Lost and Stolen Cards
9.1. Write down your card number and the customer service phone number provided in these Terms and Conditions on a separate piece of paper in case your Gift Card is lost, stolen, damaged, or destroyed and keep the paper in a safe place.
9.2. CityMAll is not responsible for lost or stolen Gift Cards after their activation.
9.3. You must directly report lost or stolen Gift Cards by contacting BLOM Bank customer service on +961 1 753 000. You will remain responsible for all transactions performed on your Gift Card up until 24 hours have passed since you informed Blom Bank customer service.
9.4. CityMAll is not responsible for reimbursement of any remaining funds in lost or stolen Card accounts
9.5. You shall not in any way be considered as Blom Bank customer.
10. Termination
10.1. The Gift Card shall remain our property. We may, at any time and without prior notice, cancel your Gift Card at your own responsibility without any liability whatsoever on our part and have you return the Gift Card to us."
10.2. You may terminate your Gift Card by returning the Gift Card to us. However, the Gift Card's available funds are non-refundable. Termination of the Gift Card will not affect prior transactions or obligations existing at the time of termination, and may not entitle you to any refund.
11. Limitation of Liability
11.1. Gift Cards are provided by CityMAll free of any warranty, CityMAll is not responsible for the quality, safety, legality, or any other aspect of the goods or services purchased with the Gift Card.
12. Liability and Error Resolution
12.1. We are not liable for any failed transaction if you do not have sufficient funds stored on your Gift Card to carry out a transaction, access to your gift card has been blocked after you reported your Gift Card lost or stolen, the terminal or system is not working properly, circumstances beyond our control prevent the transaction, or the merchant authorizes an amount greater than the purchase amount.
12.2. Refunds and returns are subject to the merchant's policies. If you are entitled to a refund for any reason for goods or services obtained with your Gift Card, you agree to accept credits to your Gift Card for such refunds and agree to the refund policy of that merchant. At the time of any exchange or return, you should present both the merchandise receipt and the Gift Card.
12.3. You agree to make a good faith effort to settle all disputes about purchases you make using your Gift Card with the merchant who accepted the Gift Card.
12.4. If you have any complaints or queries relating to the use of your Gift Card, please contact us either in writing at —————- or by telephone on
 CityMall +961——-
Customer service agents are available to answer you calls between —am and —pm.
12.5. We must allow you to report an error until thirty (30) days after a transaction date, otherwise you will risk losing entirely and irrevocably your right to claim the disputed amount
13. Force Majeure
13.1. To the extent permitted by law, we will not be liable to you for any loss or damage (whether direct or consequential), nor be in default under these Terms and Conditions, for failure to observe or perform any of our obligations for any reason or cause which could not, with reasonable diligence, be controlled or prevented by us. These causes include, but are not limited to, acts of God, acts of nature, acts or omissions of governments or their agencies, strikes or other industrial action, fire, flood, storm, riots, power shortages or failures, sudden and unexpected system failure or disruption by war or sabotage, and other acts or omissions of third parties.
14. Severability
14.1. Each of the sentences, clauses, or paragraphs contained in these Terms and Conditions shall be severable and distinct from one another and if at any time any or more of such sentences, clauses, or paragraphs are declared invalid, illegal or unenforceable by any rule, law, regulation, unappeasable order, decree or judgment of any court, the validity, legality or enforceability of the remaining sentences, clauses or paragraphs in these Terms and Conditions shall not in any way be affected or impaired thereby.
15. Governing Law and Jurisdiction
15.1. These Terms and conditions are governed by and shall be construed in accordance with the laws of Lebanon and you herby irrevocably submit to the exclusive jurisdiction of the courts of Beirut. Such submission shall however not prejudice the right of the Issuer to bring proceedings against you in any other jurisdiction.