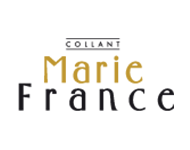 Contact information:
Website:
LOCATION
Social:
MARIE FRANCE
Since 1976, Marie France has had one specific mission: to listen to every single woman's need and concertize her desires and fantasies. Along with an abundance of ingenious ideas, embraced by intense monitoring and clinched hard work, Marie France products have a propensity to unveil the inner magnificence of every woman by offering a rapture of soothe, fashion, and confidence.
From the very first beginning, Marie France products were subject to rigorous and constant control at every phase of their production process to ensure their durability and high standards. Starting with a small collection of basic hosiery items, Marie France team worked day and night to make sure a day like this would witnessed in which Marie France became "The Hosiery Brand" among consumers,  launching more than 50 designs for every collection along with the 18 basic items of stockings swathing classic, summer and support lines.